Premiere: «LAB»-based training simultaneously on 4 continents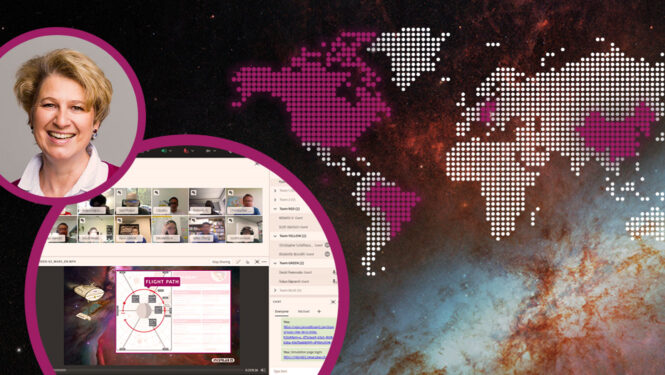 KM Networks GmbH was contracted to conduct an individual intensive training on «Project Management and Team Leadership» for 12 project managers of an organisation with international branches.
The participants were from Canada, USA, Brazil, Switzerland, Germany and China. Regardless of whether it would have been possible to travel to a face-to-face training or not – the travel costs would have been several times higher than the investment in conducting the training.
Katja Mayer of KM Networks therefore developed a purely online training formula that is at least equal to a face-to-face event in terms of learning experience and action orientation: four 6-hour online modules were created, each of which was conducted on 4 consecutive days from 13:00 – 19:00 CET (early morning in Canada, late evening in China).
The first two modules were dedicated to project management techniques and their individual implementation in the company. Katja Mayer used a variety of methods including lectures, (small) group exercises, reflections and discussions. Conceptboard was used for collaboration and the development of workshop results.
The last two modules focused on the so-called «soft factors», which are always the determining factor for success in cooperation in projects. Katja Mayer conducted these modules almost exclusively simulation-based with interpersonal Skills LAB. With minimal preparation time, she offered her participants a highly intensive and immersive training laboratory with maximum interpersonal interaction over two days.
The «LAB» confronts participants with real-life boundary conditions such as information flood, time pressure, many work perspectives and dynamics during the real-time simulation. In this setting, participants experience first-hand the benefits of communicating more efficiently, looking ahead, setting priorities correctly, involving and leading all persons involved, etc. The purely online application of interpersonal Skills LAB is directly related to the situation of the client's project managers: in reality, they also work predominantly virtually with their international locations and suppliers.
The feedback on the training was great. The participants were as surprised as they were enthusiastic about the variety of methods used during the 4 online modules. The action-oriented part with the «LAB» almost made them forget that they were «only» participating online.
NINECUBES congratulates Katja Mayer on this pioneering mission, in which for the first time interpersonal Skills LAB was conducted simultaneously on 4 continents.
KM Networks GmbH specialises in International Business Development, Corporate Sustainability and Stakeholder Management and has been accompanying international and global projects and management processes for over 25 years. In workshops and seminars, the focus is always on an interactive approach, because participants should not only learn with each other, but also from each other.
Further information on the training provider:
KM Networks GmbH
www.km-networks.net