High-end training tool with a pioneering spirit
Once conceived as a visionary training instrument for pilots, the LAB has grown into a popular method for advanced soft skills training that remains unique even 20 years later.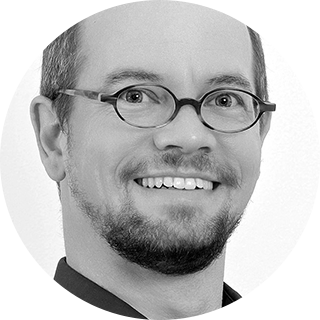 As the son of a pilot, I spent a good part of my youth in cockpits and flight simulators. During my Media Informatics studies, I received a consulting mandate at Lufthansa Flight Training GmbH (LFT) in Frankfurt to digitize their seminar content. At the beginning of 1998, the order came to develop a computer game that would train cockpit crews on soft skills. Similar to some famed Silicon Valley startups, the technical implementation of this project began in my IT laboratory in the basement of my parents' house.
It quickly became apparent that we needed to break down the complexity of the requirements in such a way that the end product could be developed within the set framework and still provide the desired benefits in short training sequences. These considerations favored using a fictitious scenario in space.
The ability to assess behavior based on objective measurements was the most challenging requirement to meet. Among other things, this meant that the desired behaviors for the real world needed to achieve positive results in our simulation as well. While in economic simulations, participants' decisions are evaluated using various formulas, we had to construct measurable situations for the analysis of «soft factors» that correlate with certain behaviors.
Getting the scenario design right required many test cycles since people represented a key complexity factor. While the candidates recruited on the office floors of the LFT must have always felt like they were being transferred to an improvised LAN party, we observed them with great suspense: Would our scenario initiate the behavior patterns we anticipated?
After months of iterative development with LFT psychologists, our formula for computer-based behavioral training was finally ready. The simulation went into productive use at the end of 1998 under the former name «SpaceBUS».
The psychologist Kai-Uwe Strelow, who at that time was responsible for the project on the LFT side, was one of the most essential contributors to the success of the project. His know-how, openness to experimentation and interest in topics and correlations beyond his area of expertise provided a synergistic breeding ground for our pioneering work. Thanks to his influence, the scenario was constructed independent of rigid psychological models, making the simulation universally applicable for training in any context of human cooperation.
The process of mastering this challenge created a strong bond between us and we remain good friends and cooperation partners to this day.
Alexander Stork
Media Informatics specialist (Dipl. Informatiker)
(HSF Furtwangen)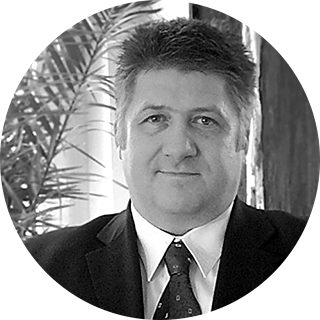 Innovation is always an adventure where ideas lead to decisions and investments and it is uncertain whether the hoped-for success will ever occur. Albrecht Schiewe – a colleague, mentor and the former Head of the Human Factors Department at Lufthansa Flight Training GmbH – knew this when he commissioned me in the Fall of 1997 to develop a follow-up seminar for the first Crew Resource Management Seminar (CRM), which was used to train the cockpit crews of Lufthansa and its subsidiaries.
The core was to consist of a computer game that enabled the application and training of a variety of learning objectives defined at that time (22 quick references) for safe behavior in the cockpit in a simulated environment. It was meant to be used both for preparation for later in training as well as alongside checks in the simulator and throughout normal operations. This was quite a venture given the clientèle, who at the time thought that working with psychologists, playing on the computer and going to the proctologist were comparable activities.
Following the first successful trial seminars, the computer simulation InterLAB, which was initially developed under the name SpaceBUS, was presented to the public as a learning method for CRM seminars at a congress for European aviation psychologists in September 1998. The response made it clear that we had done much right – only a few minor tweaks were needed.
As is so often the case, the success of this project has produced many fathers. But apart from the initiator, I would like to highlight another person who quickly understood that the complexity of simulation is not decisive for success, but that this privilege must be reserved for the participants, in which they – in the presence of others – create complexity through their behavior as a source of uncertainty.
Of course, I am talking about Alexander Stork – a cordial partner who has the aviation gene in his blood and whose creativity made it possible to create one of the first digital serious games ever, whose brand core is isolating the behavior of participants as a safety-relevant resource and assessing these behaviors. His intuition to place the game's setting in space and his creativity in implementing and designing the countless game requirements ensured that the simulation software was not stranded on the island of interesting, but unrealized ideas.
As a cooperation partner and user of InterLAB, I look forward to further developments in friendly anticipation.
Kai-Uwe Strelow
Psychologist and economist (Dipl.Psychologe & Volkswirt)
Interpersonal Skills LAB
After the initial use from 1998–2002 with a target group of more than 4500 people, NINECUBES re-designed the simulation software, published it as a marketable license product for all industries and further developed it into today's Interpersonal Skills LAB – the laboratory for highly efficient soft skills training. More than 150 trainers are currently using the LAB – predominantly in Europe.
Many thanks also to the entire crew involved in bringing Interpersonal Skills LAB into its stable orbit:
Albrecht Schiewe
René Hungerbühler
Zulema Stork
Nana Grigoryan
Armen Melikyan
Sos Sargsyan
Shushan Babakhanyan
Lusine Azizyan
Anahit Brutyan
Hayk Yeritsyan
Helge Schreyer
Bernd Balduf
Fernando Stork
Vahè Èvoyan
Vahe Hayrapetyan
Tigran Balayan
David Hambardzumyan
Nora Harutyunyan
Tamara Avagyan
Grisha Shalunts
Mark Steiner
Michael Seidt
Artak Chopuryan
Andranik Hakobyan
Arman Avetisyan
Sevak Mangasaryan
Smbat Petrosyan
Tatevik Tovmasyan
Armen Sedrakyan
Want to learn more? Just get in touch with the best trainers in our universe.
Check it out