First virtual Spacelounge has been held with our trainers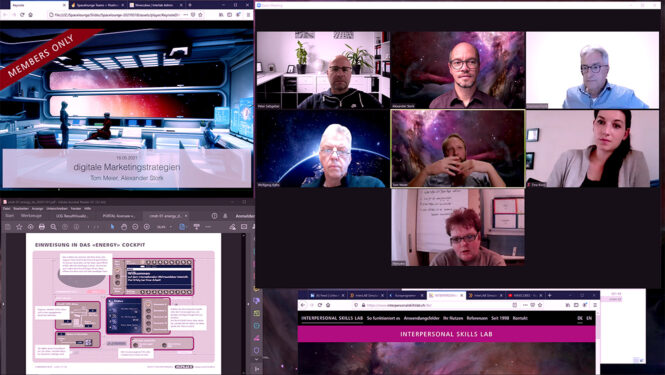 The virtual Spacelounge takes place online about 1x per month and offers certified interpersonal Skills LAB trainers the opportunity to exchange experiences and learn news about the «LAB» in an informal setting.
On 18-May-2021 was the premiere: The first Spacelounge covered an area from Cuxhaven to Bern. We saw familiar faces again, met new trainer colleagues, laughed and exchanged interesting experiences.
The focus was on the topic «Digital marketing strategies – How do we create even more presence?» The discussion was particularly exciting because it was conducted from two perspectives: Training providers and HR developers were involved.
At the end of each virtual Spacelounge, there is always an exciting mission – or an insight into the current development in the «LAB». This time, concepts for the new extended behavioural measurement were unveiled for the first time:
From around summer 2021, trainers will have about twice as much capacity to observe their participants.
This will be achieved by recording and graphically displaying many events and parameters behind the compact behaviour evaluation in an expanded way. At a glance, trainers can see at the end of a mission when the participants made which mistakes, when which info and job were processed, when which events took place in the simulation, etc. These events no longer have to be observed during the mission – so trainers can then focus 100% on communication, leadership behaviour, body posture, etc. during the observation.