NINECUBES celebrates 25th anniversary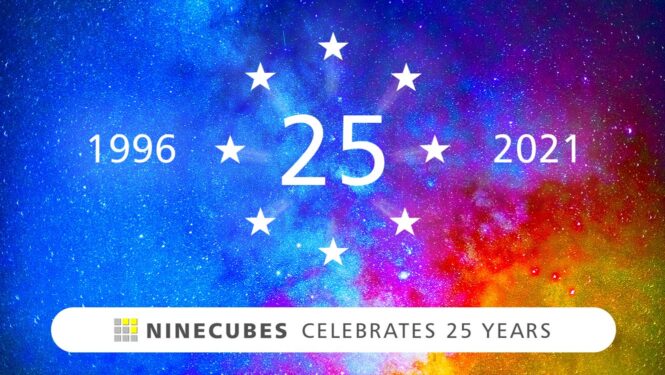 It was 1996. The culmination of the overhead projector age had not yet passed. With the founding of the NINECUBES label, I set myself the goal of making learning processes more efficient through digital applications. The «digital» should offer real methodological-didactic added value and be used in synergetic co-existence with proven and effective «analogue» methods.
My first assignment was a consultancy mandate of more than 10 years. The task was to digitalise the slides of all human factors seminars of Lufthansa Flight Training. With a specially developed – and later patented – presentation system, a content pool was created with over 5,000 slides, some of them animated and controllable by the presenter, which visualise abstract content in a comprehensible way.
The next invention already followed in the second business year. Probably the first digital serious game to focus exclusively on behavioural training, which began as a visionary training tool for pilots, has grown into a popular and still unique method for modern soft skills training: interpersonal Skills LAB.
NINECUBES started focusing exclusively on the «LAB» years ago – with a long-term mission:
To offer Interpersonal Skills LAB as the most versatile soft skills training tool in terms of training topics, target groups and management levels. Following the motto: 1 tool, 1 trainer training, infinite fields of application.
A successful mission – whether controlled from Huston or Herisau – is always the result of efficient cooperation between the best in their respective disciplines. Therefore, my thanks go to all the crew members of this fascinating mission who have made the last quarter century possible for NINECUBES:
My greatest thanks go to Kai-Uwe Strelow, the most important mentor of the innovation at that time and my constant companion. Without him, the «LAB» would not be what it is today.
Since 2013, the cooperation with Instigate Mobile, one of the most renowned and largest software engineering companies in Armenia, has made future-proof software design and many other innovations possible. By the way, Armenia is one of the premium countries for software development.
The «LAB» on its own would be just a game. The power as a process accelerator only unleashes in the application by the NINECUBES-certified trainers. They all have the qualities of «The Right Stuff» and are equipped with an enormous amount of courage to innovate. Based on the «LAB», they have developed exceptional training formulas: For target groups ranging from apprentices to astronauts, for topics such as leadership, teamwork, communication, the human factor in the safety concept, agile paradigms, complexity, etc.
I feel as if interpersonal Skills LAB is bringing the best trainers in the universe together here to an intergalactic community.
I am very impressed by the enthusiasm of all those involved in this mission and of the customers. So I am even more excited to be able to contribute further innovations to the «LAB» in the coming months.
May the Force be with you.
Alexander Stork
Founder of NINECUBES
More about the genesis of interpersonal Skills LAB:
www.interpersonalskillslab.ch/en/seit-1998/