Field testing «Discovery of Nexus»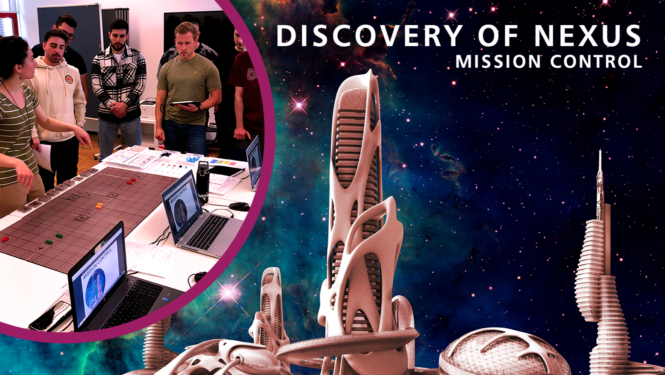 As a professor at the Vorarlberg University of Applied Sciences, business game developer and co-founder of SAGSAGA, Willy Kriz is one of the great pioneers of the simulation game scene. As part of a full-day course, he used «Discovery of Nexus» and evaluated it for use in training.
Alexander Stork, founder of NINECUBES and designer of the new add-on module, is looking forward to the verdict.
Alexander Stork: Spontaneous – Your first impression?
Willy Kriz: In terms of content and didactics, it opens up exactly those additional capabilities that I had always wished for. I am fascinated by how these new scenarios have an authentic and motivating storyline despite the still fictional setting, and at the same time offer complex challenges in the areas of team, communication and especially leadership. The complexity can be varied and adapted to the participants, which is important to me as a facilitator. I am pleased that with the optional strategy board, a haptic element has been added for the first time.
AS: Game mechanism – How do you rate the implementation of the 3 levels of management in the scenario?
WK: That is the central aspect of «Nexus», that it now simulates several management levels beyond the previous scenarios. In addition to the operational level, the strategic and planning components of leadership can now be ideally experienced and reflected through the role of «Mission Control», but the challenges of the «sandwich position» in middle management are also very convincingly represented. The new tasks of «Nexus» can be combined in a practical way with typical challenges in management and leadership processes, especially in the area of communication and organisation of processes.
AS: Debriefing & Transfer – For which training topics is the scenario particularly suitable?
WK: From the participants' point of view, the debriefing and the transfer also led to valuable insights and optimisation ideas in the area of the design of leadership processes. The "Nexus" module offers significantly better opportunities to focus on "psychological safety" in teams and organisations and to train the necessary cross-level leadership behaviour. For the training of leadership competence, all relevant roles are now addressed in one scenario: self-leadership, interpersonal leadership (direct communication and leadership styles), operational organisational leadership (management, planning and organisation) and strategic leadership (visions, goals, strategies).