Review: Virtual Spacelounge in August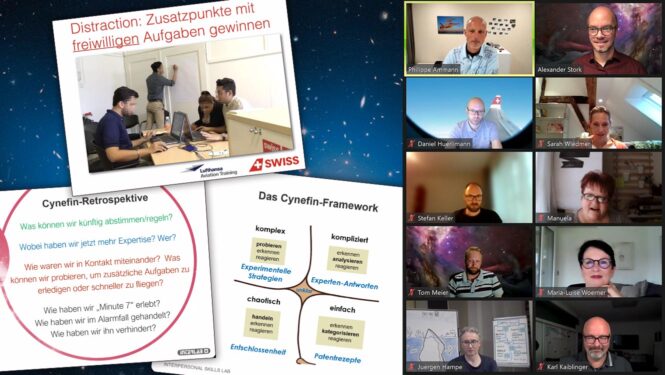 At regular intervals, users of interpersonal Skills LAB meet in the «virtual Spacelounge». In August, the focus was on areas of application & practical transfer.
Philippe Ammann (www.pilotimpuls.ch) showed on the topic of «Distraction» how easily participants can be distracted or disturbed by voluntary additional tasks during a mission. In short video examples, different participant behaviors were shown and what a great challenge and disturbance the – clearly declared voluntary – additional tasks triggered for some teams. The missions shown thus created an even greater basis for reflection as well as new anchor points for the transfer of learning.
Jürgen Hampe (www.jhls.de) took us into the world of «Complexity» and showed which reflection questions he uses to prepare his participants for the expected complex situation (missions with the "LAB"). In his trainings he links interpersonal skills LAB with the Cynefin framework, according to which problem situations are classified as either simple, complicated, complex, chaotic or unclear. The types of problems experienced in the "LAB" are reflected upon and the participants develop appropriate action strategies. For example, according to the Cynefin framework, experimental strategies are appropriate for complex problems.
NINECUBES presented a special mission to provide an insight into product development: In the future, there will be new variants of existing missions as well as new missions in order to respond more flexibly to the target group in the training process (e.g. level of difficulty). New missions and simulated system failures have been developed for training topics such as situational awareness, conflict, complexity and decision making. With the new result evaluation, many events and parameters behind the compact behavior evaluation are recorded in an extended way and displayed graphically.
The virtual Spacelounge takes place online about 1x per month and offers certified interpersonal Skills LAB trainers in an informal setting the opportunity to share experiences and learn news about the «LAB». Dates are regularly announced via the website and the newsletter.